Barely a month goes by without the news of a data breach affecting governments, businesses or individuals – with once alien terms like 'malware', 'phishing' and 'ransomware' increasingly entering the public consciousness. Data insecurity is a major threat to all of us – from the recent NHS hacking scandal that saw thousands of operations and appointments cancelled to major data breaches of big-name companies. Both telecoms giant TalkTalk and pay day loans stalwart Wonga paid the price with damage to their share prices and reputation. Across industries and sectors – agility and forward planning are important in keeping your data secure and your customers confident. The physical activity sector, like many others, must ensure it is on the front foot in this colossal battle.
Pundits have dubbed personal data 'the oil of the 21st century'. We're collecting more personal data than ever before in an age where advanced digital technologies have started to affect every aspect of our lives; from ordering fast food and taxis online to tracking our health and fitness.
Data is changing the physical activity sector as we know it, and revolutionising the way we do business – so it is no surprise organisations are increasingly digitising and collecting a wider variety of consumer data to support their decision making and improve the customer experience. But with great data comes great responsibility as hackers and cyber criminals seek to take advantage of quality data with more sophisticated attacks.
2016 research highlighted that one third of business leaders believe that their company will be hacked and 73 percent of consumers in the UK admit that it has become normal or expected for businesses to be breached. It seems it is increasingly becoming a matter of when and not if a sector will suffer a data breach, but there a few simple steps we can all put in place to keep our house in order and mitigate risk.
Stay on top of General Data Protection Regulation (GDPR). GDPR comes into law next year and requires companies to benchmark against best practice in this area, including initiatives such as designating someone within the organisation to take responsibility for data protection compliance.
Create/Foster a data secure environment. Ensuring your employees utilise password encryptions for personal/important documents; incorporate secure passwords, have up to date anti-virus protection, and are aware of the dangers of leaving confidential documents in public spaces e.g. on desks, will minimise the likelihood of risk.
Focus on supporting customers, and taking control of the story in the event of a breach. It is vital to own up to mistakes – understanding and clearly explaining the nature and extent of the breach, will mean that the impact is less damaging than some organisations have faced in the past. What is more, providing effective customer care (such as incident helplines) can help to restore any potential loss of public trust.
As the sector's representative body ukactive will maintain contact with government to keep our members well briefed on any legislative updates around data protection. This year's Flame Conference and Awards presents an invaluable opportunity to hear from disruptive technologist, futurist and data protection expert Dr Simon Moores who co-authored the Conservative 'Digital Plan for Britain'. Do not miss this golden opportunity to gain the practical insight that will help you to stay one step ahead in the war against the hackers.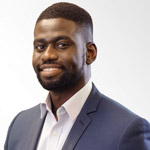 Public Affairs and Policy Manager