Leaders from across the physical activity industry were united today (21 June) in recognition of 'a unique moment' for global, cross-sector collaboration to get more people active.
Crowds gathered in Manchester, UK, for the first Active Uprising – a three-day celebration of physical activity featuring some of the biggest names in sport, health and fitness, technology and construction.
CEO of ukactive Steven Ward said: "We are in a unique moment. The pursuit of the golden thread of physical activity is opening up new opportunities for collaboration.
"There have never been more people locally, nationally, internationally on the same team – fighting for the same goals and wanting to deliver the same outcomes.
"This is a unique moment to get the nation moving, a unique moment for our Active Uprising."
More than 1,200 people were in attendance to hear the rallying cry, ahead of speeches from former health secretary, Mayor of Greater Manchester Andy Burnham, and a fascinating discussion with Britain's most successful female Olympian, cyclist Laura Kenny.
Steven described "the influx of the world's largest brands to play a role in our agenda". The event, supported by headline sponsor Willmott Dixon, has attracted unparalleled levels of interest from outside the industry, drawing tech investors, construction giants and public health professionals – all looking to collaborate.
He also spoke about the unprecedented alignment now seen at a national policy level with ukactive's key partners, such as Sport England, an education system under pressure to recognise its broader role, and "an NHS about to be reimagined with prevention at its heart".
The Active Uprising Conference comes ahead of the industry's biggest celebration, the ukactive Awards, and the Active Uprising Weekend, which sees Manchester City Football Club kick-off free activities across the region by opening its doors to local schoolchildren for a Super Movers 10@10 with City in the Community coaches on Friday.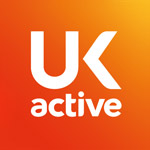 More People More Active More Often